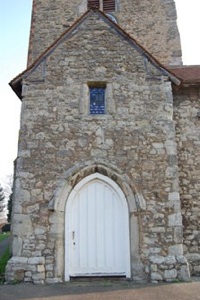 The West Porch was built in the 15th century.
This is probably the most unusual feature of the church in that it consists of two storeys, with a gabled roof and a projecting wing that contains a staircase to an upper room, thought to be a Priest's Chamber (not accessible to the public).
The door leading to the stairs up to the Priest's Chamber.
From 1180 the church was a subject of Beeleigh Abbey. It's possible that the living was held in name only by the abbot, who sent one of his monks to serve in the parish. After the Dissolution of the Monasteries by Henry VIII, the benefice passed into private hands.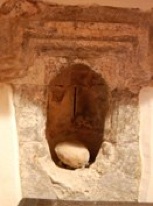 To the left of the doorway to the Priest's Chamber is a medieval water stoop with a moulded head. It was rediscovered in 1974 during renovation work.
---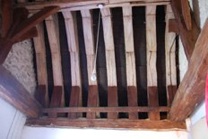 The upper room in the West Porch is known as the Priest's Chamber. It is believed to have been used by monks from Beeleigh Abbey for overnight quarters when they were preaching in the church. The exposed timbers of the Priest's Chamber, if original, are in a remarkable state of preservation.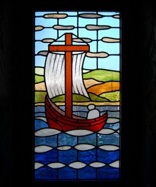 The stained-glass Priest's Chamber window was made and donated to the church by Alistair Bruce in 2000. Ron Parr built the oak frame and installed the window.
---